Présentation - Presentation
GIC FATS DOMINO DES ILES LOFOTEN*F

Surnoms - Nicknames : Fatsou - TsouTsou

| | |
| --- | --- |
| | Mâle - Male |
| | Black and white n 09 |
| | né le 18.08.2010 - Born on 08.18.2010 |
| | Père-Father : SC WW'09 Casanova de Khazad-Dûm*F |
| | Mère-Mother : Diana Krall des Iles Lofoten*F |
| | Eleveuse - Breeder : Gisèle Tinel |
| | Propriétaire - Owner : Gisèle Tinel |
| | GSD-IV and PKD negative - HCM normal (2011 & 2013) |
| | Père des portées - Father of the litters : n° 18 et n° 19 |
| | Kittens are expected in April 2014 |
| | Pedigree |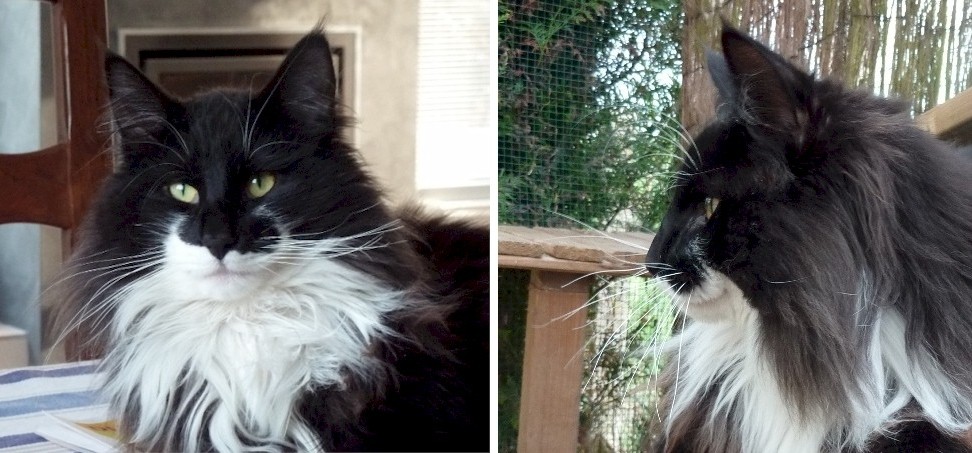 Fats Domino de Iles Lofoten*F, 2 ans et 8 mois, Avril 2013
Avant tout, Fats est mon GRAND AMOUR ! Son expression et son merveilleux caractère me font totalement craquer ! Il a volé mon coeur dès sa naissance. Cependant, je n'avais pas prévu de le garder !
Fats a un magnifique profil avec un nez bien droit, un front arrondi et un menton solide, de grandes oreilles à plumets et un excellent triangle. Son marquage blanc surprenant et rigolo donne une fausse idée de museau rond, alors qu'il n'en est rien, les lignes du triangle sont bien dessinées. Sur la photo ci-dessous, je trouve que l'on voit mieux le bas du triangle, mais c'est subjectif.
Il est haut sur pattes, et sa fourrure est d'excellente qualité. Son poids, quand il n'est pas "amoureux," est de 6,100 kg.
First of all, Fats is my BIG LOVE, I'm totally fan and mad of this guy especially above all because of his expression and his wonderful temper !
He stole my heart as soon as he was born even if it was not planned to keep him !
Fats has a fantastic profile with a straight nose, a round forehead and a strong chin,
big well placed ears and an excellent triangle. The strange and funny marking on his face gives a false idea of round muzzle but it is not, the lines of the triangle are well drawn. On the picture below, it seems to me that we can better see the bottom of the triangle, but it is subjective..
He is high on legs and has a good texture of coat. His weight, when he is not "in love", is 6,100 kg.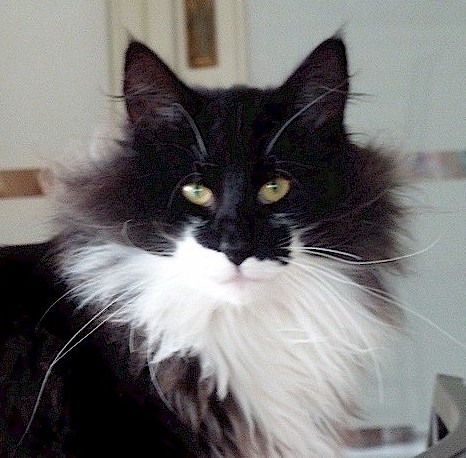 Galerie - Gallery :

2010 - 2011 - 2012 - 2013